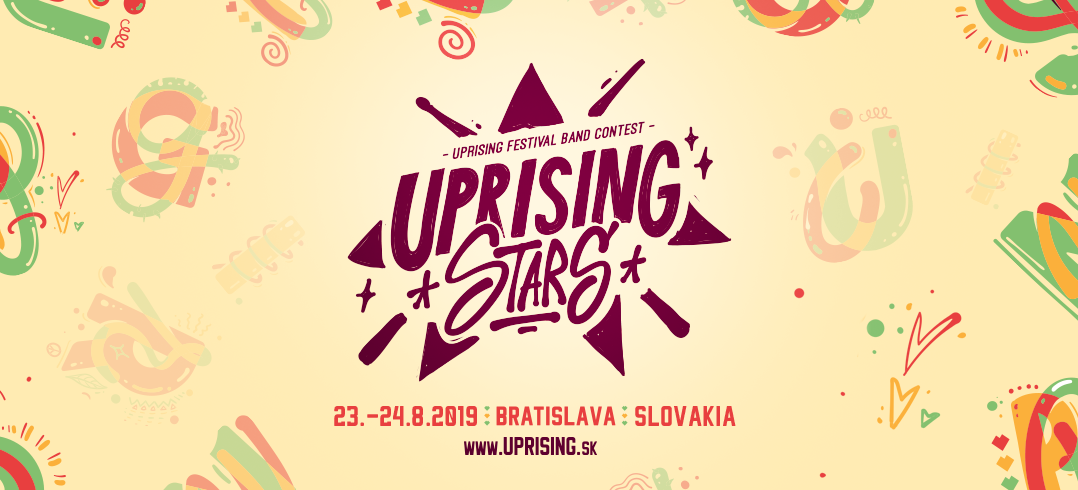 Reggae band contest – Uprising Stars 2019 (International)
Last year we discovered several talented bands and artists in Slovakia with our contest. For this season we decided to search for talent also behind the borders of our country and give a chance to showcase their talent to any promising reggae, ska, dancehall or dub band/artist/project from Europe. Second edition of our band contest "Uprising Stars" is here and we hope to discover some hidden gems and have them performing on this years Uprising Festival.
If you think you got what it takes, check the contest rules below and apply.
UPRISING BAND CONTEST – UPRISING STARS 2019 (INTERNATIONAL)
– 60 min show at the Uprising Festival 2019
– Two-day festival tickets for band members
– Band promo at the social media, website and poster of the Uprising Festival
– 500€ fee and travel cost refund (up to 500€ with all required documents – tickets, gas bills, etc.)
– Accommodation, meals, technical rider
RULES:
– Solo artists and bands are invited to enter to win now until June 30
– Bands enter by following the entry instructions found below under "How To Enter"
– Once the entry period closes, Uprising team will review all submissions and select at least two finalists and one wild card
– On July 5, Uprising will publish the videos of the finalists on Facebook and Instagram
– All finalists will be notified with links to their posts at which time they are encouraged to message their friends and fan base to "vote" by liking the post. (Note, for likes to count, they must be liked on the Uprising pages, not a band's page or elsewhere shared posts)
– Fan Voting will take place from July 5 through July 12 till 1pm
– The video with the most collective post likes on the Uprising Facebook and Instagram pages will be the winner
– Winners will be announced at 1pm on July 12, 2019 on Uprising Festival's website and in social media
ELIGIBILITY:
– Never performed at Uprising Festival on any main stages
– An entrant (band or solo artist) plays reggae, dub, ska or dancehall
– Be available to be on-site and perform at the Uprising Festival 2019 (August 23-24, 2019)
HOW TO ENTER:
– On your band/artist's Facebook page (or personal page if you don't have a band/artist page), post a video of yourself/your band performing (live performance, studio takes, etc.)
-Videos should be only one song in length and should be made public on Facebook
– Tag your video with #UprisingStars2019 and tag Uprising Festival @uprisingfestivalofficial
– Tell your fans/friends in the post why you want to play at Uprising Festival and ask for support in forms of shares, comments or likes – entrant with the highest number of interactions gets a wild card
– Fill out this application form at the Uprising Festival website
FINALISTS:
– Send digital copy of your contest video for sharing through Uprising Festival pages (Facebook and Instagram)