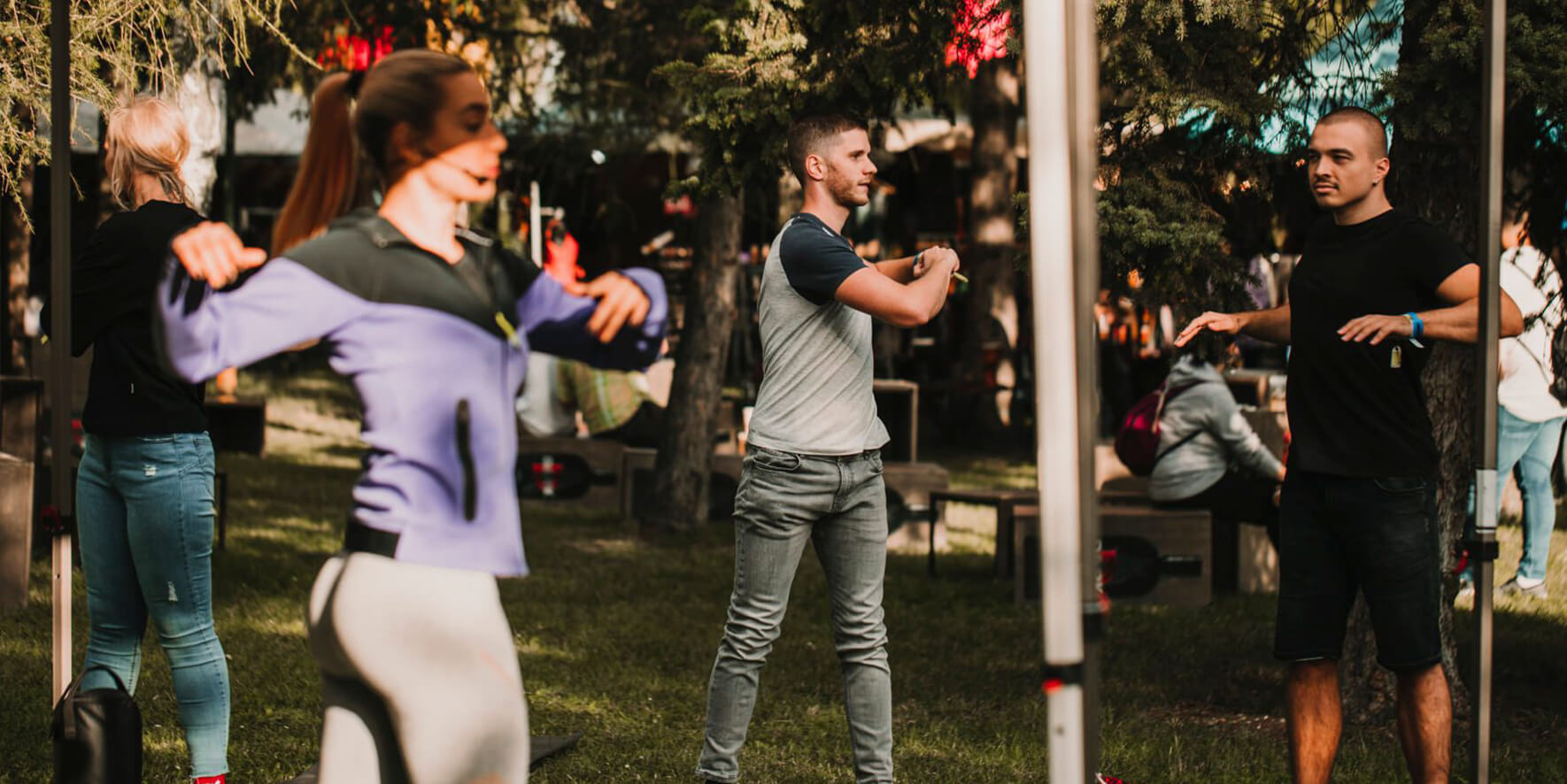 Festival activities for the whole weekend
In addition to the music program on the stages and in the partner zones, there are also a number of accompanying activities spread throughout the campus.
Be a part of sports activities and competitions, relax in the Healing zone, treat yourself to a massage or join dance and music workshops. Your little ones will also find fun in the children's zone. You can find the complete program below and in the festival brochure.
FRIDAY
Healing area
12:45 – 13:45 Festival warm-up with Borisom Valihora
14:30 – 15:30 Sound garden – Boris Čellár
16:00 – 17:15 Yoga – Ivka Straková
17:30 – 18:45 Dialogue in dance – Zuzana Burdanová a Jakub Cerulik
19:00 – 20:00 Yoga – Karin Janáčova
14:00 – 20:00 Exquisite massages (come to book your appointment)
Urban zone
Slack show workshop
Green zone
15:00 – 15:30 All in Gym – Poledance show + workshop
17:00 – 19:00 Ping-pong tournament
Kids zone
18:45 – 19:45 Paci Pac (concert)
Beach
15:30 – 16:30 Drumming and the beach with JAMADANOM
18:30 – 19:30 Drumming and the beach with JAMADANOM
SATURDAY
Healing area
09:00 – 10:15 Yoga – Nicol Olšovská
11:00 – 11:50 Jazz mantras – Lucia Lužinská
12:15 – 13:30 Festival warm-up with Borisom Valihora
14:00 – 15:30 Psychedelics and their potential in therapy and personal development – Jaro Farkaš
14:30 – 16:00 Henna tattooing – Magdaléna Uhrinová
16:00 – 17:45 Ecstatic dance – Zuzana Burdanova a Jakub Cerulík
18:00 – 19:20 Acro yoga – Danka Zacharová a Mario Mikula
19:30 – 20:30 Yoga – Lenka Žabková
09:00 – 20:00 Exquisite massages (come to book your appointment)
Urban zone
All day – Slack show workshop
16:00 – 18:00 Rosengart table football tournament (Arena Stage)
18:30 – 19:30 ABADÁ Capoeira Slovensko
Green zone
14:00 – 15:00 PureLove – UPcycling workshop
15:30 – 17:30 Ping-pong tournament
Kids zone
15:00 – 17:00 Balloon show
15:00 – 18:00 Face painting
17:00 – 18:00 Dance workshop with Aron Mitu
Beach
14:00 – 15:00 ABADÁ Capoeira Slovensko
15:30 – 16:30 Drumming and the beach with JAMADANOM
18:30 – 19:30 Drumming and the beach with JAMADANOM